Sachtleben, Raymond J., 1st Lt, ASN O-811444 - Pilot
1st Lt Raymond Sachtleben was awarded the Purple Heart and the Air Medal (posthumously).


He along with all his crew was buried at the US Cemetery at Madingley on 5th June.
Ray Sachtleben's enlistment record from the National Archives is here.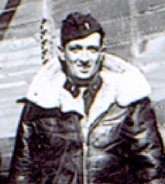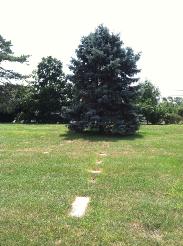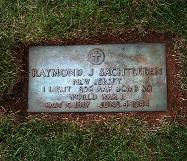 Raymond's grave lies in the shadow of the blue pine in the photo. His parents, sister and her husband are buried in graves next to his.
In 1947 his remains were repatriated and buried at George Washington Memorial Cemetery in Pararmus, New Jersey.
Raymond Sachtleben was born 5th October 1917. He lived at 64 Davis Avenue, Hackensack, New Jersey with his father Albert (1896 -1967), mother Emma (1894 - 1979) and sister Dorothy (1920 - 1998; married Raymond Mc Elroy and died 2004).
Sachtleben graduated from Hackensack High School, then he attended the Newark College of Engineering, where he was also a member of basketball and rifle teams.
On leaving college he was employed by the International Projector Corporation in New York in the Time Study Department. Outside work he was a member of the Hackensack Y-for-all and instructor of the Rifle team.
He gained his civilian pilots licence before enlisting in the Army in May 1942.
He was awarded his commission in the US Army Air Force as a pilot in early 1943 before joining his crew at Alamogordo, New Mexico, then moving on to final combat training at Davis-Monthan Airfield in Tucson, Arizona, before flying their allocated aircraft B24J (44-40146) 'Sugar-N-Spice' across the Atlantic via the southern route, arriving at North Pickenham in April 1944. There he spent his first weeks on familiarisation flights with the 856th Squadron and was promoted from 2nd to 1st Lieutenant.
Sachtleben's first operational mission as pilot was on 11th May 44 in 'Sugar-N-Spice'. There were two further missions in this aircraft while the six following missions were in a variety of other 'ships'. The final and fatal mission on 4th June 1944 was in B24H (42-95160). This un-named 'replacement' aircraft was on its fourth mission, having arrived in the squadron five days earlier.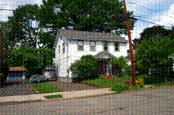 There are many to thank for the information about Raymond Sachtleben. We must first mention the staff at Hackensack High School, especially Librarian Cynthia Ortiz who kindly scanned the Sachtleben yearbook pictures and web teacher Felice Tatgenhorst. Bob Meli gets a special mention on the Credits page and we must give a special thanks to Wendy Hubbard, Sachtleben's grand-niece, for the fabulous photos.
The excellent Hackensack High School web site for Raymond Sachtleben can be found here.