After Hirschman's death, Mr. and Mrs. C.F. Hirschman, Lt. Hirschman's parents, received a letter from Lt. Harold R. Gietz, chaplain of the 492nd Bomb Group:
Lt. Hirschman was held in high esteem by all members of this group and received high praise from his commanding officer," the chaplain wrote. We all feel his loss very keenly.
Hirschman, Gerald E., 2nd Lt, ASN O-699931 - Navigator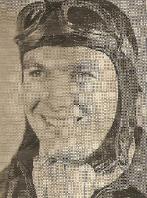 Gerald Hirschman's enlistment record from the National Archives is here.
We have been unable to find much information about Gerald Hirschman's family or his life prior to his joining the Army Air Force. If you or someone you know has such information, we would very grateful if you contacted us through the contact page.