Born 30th March 1923 in Cromwell, Noble County, Indiana.
Civilian Occupation: Semi skilled aeronautical engineer.
Enlisted: 13th February 1943.
Buried at Madingley, Cambridge Grave ref: E-5-83.
Awarded: Air Medal & Purple Heart
Second youngest of five brothers:
Joseph, born 1909

Don, born 1913

James, born 1915

John, (Tom) born 1924
Father: Ellsworth Mother: Nellie (nee, Sparrow).
Parents, Brothers Don, Joseph and James buried in Sparta Cemetery Kimmell Indiana.
The five DeBrular brothers grew up in Cromwell Indiana. Pete and his brother Tom were the youngest. Their father died when Pete was three years old. Leaving their mother to raise five boys on her own during the Great Depression, she died when Pete was eleven and his brother Tom was nine. The older brothers had to fend for themselves leaving young Pete and Tom to be sent to The Indiana Masonic Orphanage in Franklin.
Pete DeBrular graduated from the Masonic Home's high school in 1941 then worked on aircraft production until 1943 when he enlisted in the USAAF.
Meanwhile his younger brother Tom had graduated from the same high school joined the US Navy Seabees Construction Battalion destined to serve and survive the battle for Iwo Jima in the Pacific.
In April 1944 following Combat Crew Training in Tucson Arizona, Sgt 'Pete' DeBrular sailed to the UK on board the liner Queen Elizabeth his 'seat' on the aircraft "Sugar N' Spice" being taken by 1st Lt Nicholas Warner.
Pete's first operational mission was on 11th May 1944 in 44-40146 'Sugar-N- Spice' he flew two more missions in this aircraft the six remaining missions were in a variety of other 'ships'.
On the 2nd June 1944, the day of his eighth mission and his promotion to Staff Sergeant he wrote this last poignant letter home:
Dear Aunt and Uncle:

I just received your letter saying you had sent a package and am sure looking forward to it. Please thank Mrs. Caple for her part in it.

Did you see by the address that I received a promotion today? I was raised to the rank of Staff Sgt. You can tell Don Robbins if you want. This is a real boost in pay. It will come in handy when this is all over with. I get 50 percent more pay for flying, and 20 percent more than that for being overseas so it all adds up to a good salary. Now I outrank all three of my brothers. I'll really make them step, ha! ha!

When and if I ever get back to Indiana, I'm just going to wait for your invitation to come for a visit and then I'm going to head right for Cromwell and a good long rest.

I'll fatten up on your cooking, and a snooze under the two big maples. Just somewhere where there isn't a lot of rushing about and ceaseless noise.

Say hello! to Gramma.

…

Must close now and get some sleep.

With love,

Paul
DeBrular, Edward P. "Pete", SSgt, ASN 15547122 - Gunner
There is an enlistment record for Edward DeBrular in the National Archives here. Although most details match known facts, there are inconsistencies in the record, e.g. serial number.
Pete's gravestone at Madingley Cemetary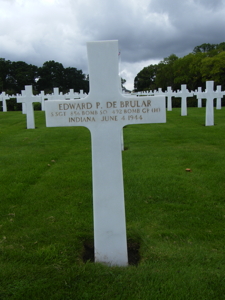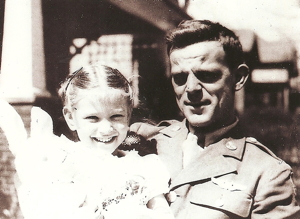 DeBrular with his niece, Naomi