Born on 5th September 1921.
Resided with his mother at 711 Birch Street in Camden NJ.
Attended Woodrow Wilson High School Camden NJ, where he was a star football player.
After graduating from high school he worked for the New York Shipbuilding Corporation in Camden.
Enlisted in the army on 6th April 1943 serving with 2033rd Engineers Fire Fighting Platoon. Sailing to the UK on RMS Queen Mary, his unit served with the 44th Bomb Group at Shipdham airbase.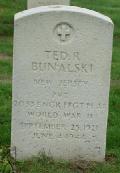 Bunalski, Edward ("Ted") R., Pvt, ASN 32756508 - Firefighter
Edward Bunalski's enlistment record from the National Archives has not been located.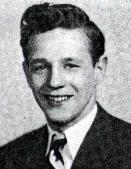 On the evening of 4th June 1944 Private Bunalski and Sergeant Monroe Atchley were eating their evening meal at Shipdham when they heard that an aircraft had crashed. Abandoning their meals they jumped on the first truck going to the fire. Upon arrival at the crash site they immediately went into the burning aircraft to rescue the crew with total disregard of the danger from unexploded bombs and burning aviation fuel.
One of model 201b fragmentation bombs exploded, killing Sergeant Atchley and fatally wounding Private Bunalski who died at the scene.
Private Bunalski was buried on 5th June 1944 at the American Military Cemetery Madingley England.
He was posthumously awarded the Soldier's medal for heroism.
In 1948 his body was returned to the United States, and he was buried on 22nd July of that year at the Beverly National Cemetery in Beverly, NJ.
Ted Bunalski was survived by his mother Catherine Bunalski and four sisters, Miss Rose Bunalski, Mrs Henry Klaus, Mrs Charles Lenox and Mrs Robert Beideman all of Camden.
Extensive information about Ted Bunalski can be found at the Delaware Valley Rythm & Blues Society web site. Bunalski's page is here.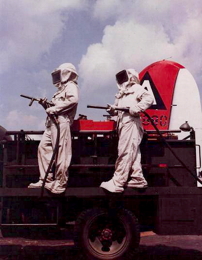 Army Air Force firefighters like Bunalski, circa 1944.
Bunalski's gravestone at Beverly National Cemetary