Born 7th Dec.1910 (age 33) family resided at Brownsville Kentucky.
Civilian Occupation: Painter decorator builder.
Enlisted: 9th January 1943 Served with 2033 Engineers Fire Platoon
Awarded the Soldiers Medal (Posthumously)
Originally buried at the US military cemetery Madingley on 5th June 1944
Repatriated to USA in 1947, buried Boiling Springs Church of Jesus Christ Cemetery, Warren County Kentucky.
Both father Sam R. (died in 1942) and mother Mattie Atchley (died 1945) are also buried in Boiling Springs Cemetery.
Survived by his sister Grace Atchley (born13th Jan 1915) who married a Sydney Bolton, this union was childless.
It is believed that Grace Bolton is also buried in Boiling Springs Cemetery
Monroe had two elder sisters Laura & Lessie who apparently who did not survive him.
Monroe had married Morgan Bailey, a teacher. They had separated before he enlisted. Morgan his wife moved away possibly to California where it's believed that she had Monroe's child called Barbara but unbeknownst to Monroe. Unfortunately we now believe Barbara has also died.
Apparently there are no surviving direct relatives, although we are hopeful that photographs of Munroe Atchley may still be found.
Information as of January 2012 from Ruby Bolton (90yrs), Munroe's sister-in-law via Hal Dinwiddie, researcher and archivist of the Cowles family.
Atchley, Munroe, Sgt, ASN 35579833 - Firefighter
Munroe Atchley's enlistment record from the National Archives is here.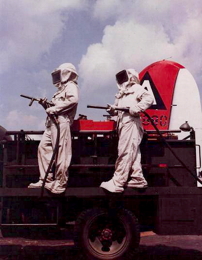 Army Air Force firefighters like Atchley, circa 1944.
Report of the incident from 44th Bomb group.com:
At 5.30pm 4th June 1944 Sgt. Atchley and Pvt. Bunalski were off duty and eating supper at Shipdham airbase when they heard men yelling that a plane had crashed. They left their meals, ran out on the road, and jumped on the first fire truck going to the fire.

Upon their arrival at the crashed plane, they proceeded to extinguish the flames, disregarding the danger of bombs going off and a gas tank which was burning and full of gasoline. When one or more of the bombs exploded, both of these men were killed. They both were awarded the Soldier Medal posthumously.